Post by Deleted on Sept 13, 2013 13:35:51 GMT -5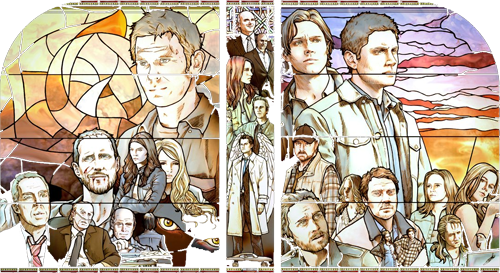 Full Name:
Alessandra Marie De Luca
Nickname/Alias:
Alessa or Al ( Unless you are a very special 'humble' hunter or her mentor, don't call her Al or she will kick you. )
Age/Date Of Birth:
27; January 30th 1986
Race:
Human
Occupation:
Hunter / Musical Performer
Species Group:
Hunter
Play-By:
Scarlett Johansson
Abilities
Alessa is a very good shot with handguns and can handle most types with relative ease, however her real strength lies with knives and swords. She can use throwing knives, daggers, switchblades, machetes and is incredibly deadly with a katana. If it has a point or a sharp edge, she can handle it like an expert.
From early childhood Alessa has trained her body to fight. While the fencing and karate classes started out as hobbies, they soon developed into training abilities she would use for the rest of her life. She is a 2nd degree black belt, and the discipline it took to achieve this status has made her strong and incredibly agile.
Alessa has an excellent memory and is able to remember names, faces, sequences of numbers, portions of articles and certain details of events easily. She can also speak fluent Italian and Spanish, and just a little Japanese.
Not enough gun experience - She is not good at shooting anything bigger than a handgun, which is a bad thing considering a shotgun with rock salt rounds is actually quite handy. She definitely wants to learn how to shoot a wider variety of guns.
Human - No matter how much she trains or how strong or smart she is, she is merely human. Broken bones, other grisly injuries and death come to her easily compared to other things out there.
Special Inventory
Special items that are bought from the store will go here.
Likes (At Least 3):
❤ Hanging out with friends
❤ Helping others
❤ Playing the piano
❤ Singing
❤ Reading
❤ Cooking
❤ Training her skills/abilities
❤ Baked goods
Dislikes (At Least 3):
✗ Demons
✗ Evil supernatural creatures
✗ Hot weather
✗ Fake/obnoxious people
✗ Sugar free...anything and artificial flavors.
✗ Being kept out of the loop
✗ Having nothing to do
✗ Being underestimated because she is a woman.
Fears (At Least 2):
☬ Heights
☬ Becoming a monster
☬ Someone innocent getting hurt or worse because of her
Goals (At Least 1):
★ Have a boyfriend someday
★ Help as many people as she can
★ Find a way to heal her mother of her mental anguish
Personality:
Alessandra is generally a nice person. When it comes to meeting new people, she tries not to make assumptions and instead asks questions to learn about new acquaintances. Of course this can end up annoying someone and causing them to think that Alessa is nosy, but it's really not the case...she just wants to get to know you better. Alessa is also very cordial in her speech and mannerisms, but this should not be mistaken for trust. She could be talking about something as innocent as the weather and while she appears relaxed with a friendly smile, her guard will be up while she intently listens and watches the body language of the person across from her, taking everything in with a critical eye. The last thing she wants is to be caught off guard because she wasn't paying attention.
Alessa has a very sarcastic sense of humor which of course can rub certain people the wrong way. She'll definitely be the one to throw in a joke to lighten the mood or divert a somewhat personal subject away from herself. Her comedic timing isn't always the best however and can lead to an embarrassed shrug and apologetic smile if she realizes she's gone too far. A good indicator to see if she likes a person is if she feels comfortable enough to poke a bit of innocent fun at them, and by all means dish it right back out at her. Alessa can be a HUGE flirt, ranging from mild to highly suggestive depending on the person and situation. If you're a good looking guy, she will flirt at least a little. She knows she isn't a bad looking lady, and isn't ashamed to admit that a bit of sweet talk has gotten her out of a jam or two the very few times she's been caught somewhere she shouldn't be. With all of this being said, it does take a while for Alessa to 'shut off' and ease into social situations especially if it's been awhile since she's had a break from hunting.
Alessa cares a great deal about her job and helping people, to the point that she tries to carry the weight of the world on her shoulders when it comes to hunting. She
knows
she can't always save every person involved with a case, but that won't stop her from placing blame on herself if something doesn't go according to plan. Alessa doesn't want any civilian to go through what she has, and she will take it badly if she feels she failed in achieving that. She keeps a journal and a record of every case she's done, and it is known by the few close to her that she will sometimes spend days critically analysing a case to see what she could have done differently and how to apply that knowledge to future cases. There's no way Alessa will ever be content in her understanding of the supernatural and will gladly listen and learn from more experienced hunters ( don't be surprised if she actually starts taking notes ). Even though she doesn't partner up with other hunters all that often except for her mentor, Alessa actually likes to work with others. She sees it as an opportunity to learn and of course, meet new people.
Traits
[/b][/font]
✧ Smart - Alessa has had an incredible thirst for knowledge ever since she was a child, and the tragic event that claimed her sister's life only amplified it. She knows a lot about varying subjects and has many hobbies, but she's never truly satisfied and always wants to learn more. Of course she also knows about most law procedures since she sometimes has to flash a fake badge on a case.
✧ Determined - Once Alessa has her mind set on a plan of action, she will follow it through to the end especially if she thinks it's the right thing to do. She would have to be seriously injured or knocked out if you wanted to stop her from following out her intended course.
✧ Loyal - Once someone gains her trust and befriends her, Alessa will support them and gladly help out however she can...as long as it doesn't go against her morals. She will be a friend for life and gladly risk her own hide to save someone she cares about.
✧ Open Minded - Alessa knows her way isn't always the right way, and is willing to listen to the ideas and opinions of others if they have something to add. She also doesn't believe that 'evil' and 'supernatural' are interchangeable terms and won't hunt something just because it isn't human. This tends to put her at odds with some other hunters, even her own mentor, but she will not change her stance on this.
✧ Quick-Witted - Her brain tends to move very quickly, it's surprising smoke doesn't come out of her ears sometimes. She's always thinking of multiple scenarios, whether it's thinking of ways to avoid danger and inflict the most amount of pain while hunting, or how to most effectively reply to a joke or sarcastic remark just given by a friend.
Negatives (At Least 3):
✦ Too hard on herself - Alessa is, hands down, her own worst critic. She's been known to frequently criticize herself and rehash mistakes she's made, even on cases that happened weeks ago to see what she could have done differently. This mostly applies to hunting and a little bit to her music. Even though she tries to learn from these mistakes and apply them to future cases, she still spends way too much time dwelling on things she can't change.
✦ "Girl, just take the compliment." - Alessa is terrible at taking a compliment or receiving praise of any kind. When it comes to superficial things like 'hey you look pretty' she'll take it of course. Anything deeper will result in something like an awkward shrug and smile followed by 'that's nice that you think so.' It comes off as being humble, but deep down Alessa truly feels she is damaged goods and will never be good enough...as a hunter and in other social aspects of her life.
✦ Selflessness - This usually wouldn't be considered a negative but Alessa takes it to the extreme. If someone she cares about is in danger, she will blindly rush in to save them anyway she can, even if it means taking their place. She will have absolutely no regard for her own safety and will act rashly before thinking of any other plan of action.
✦ Mouthy - Alessa has a tendency to pop off at the mouth when she is severely frustrated with a situation or person. Her brain/mouth filter will malfunction and she will say things that can be downright mean. Most of the time, she will feel bad and apologize...unless she feels what she said was right.
✦ Holds a grudge - Her inability to let things go also ties in to her attitude towards people. If you wrong her or someone she cares about, she will NEVER forgive that. It's even worse if she trusts you and you break that trust...you'll pretty much be dead to her. It would take something short of a miracle to change her mind.
[/ul]

Parents:
Marcello De Luca (Father); Lillian De Luca (Mother)
Siblings:
Gabriella De Luca (Sister/Deceased)
Other Family:
Various aunts, uncles and cousins. She has lost touch with a lot of them due to becoming a hunter, and because they didn't know what to think about Gabby's death.
Important Others:
Zachary Morgan (Mentor/Godfather)
History:
Although Alessandra was born in Florence, Italy, her family moved to the Pacific Northwest when she was 3 years old. Her mother Lillian's side of the family was from this region, and her husband Marcello had always wanted to live in the US. Lillian's family helped them get on their feet, and set them up in a nice three bedroom house in Seattle, Washington. Marcello used the money he had from selling his shop in Italy to open a bakery in downtown Seattle. Although it took some time, the bakery started turning a profit and the family never went without anything.
A few months after they moved to the states, Lillian found out she was pregnant. They were so overjoyed, and in no time at all they were welcoming little Gabriella into the world. Alessandra loved her baby sister, and since they weren't that far apart in age, they became very close. During her childhood, Alessandra was a straight A student and took part in extra curricular activities such as learning to play the piano, fencing with her father, and cooking in the kitchen with her mother. She even helped out at the bakery sometimes on the weekends and during the summer. Her mother wanted to put her into ballet, but Alessandra protested so much that her mother finally dropped it. It took some convincing, but Alessandra was allowed to start karate lessons when she was 10 years old. Everything was more or less….perfect. This family that moved to the US from Italy was literally living the American Dream…and no one could have guessed how drastically this sweet dream would turn into a horrible nightmare.
When Alessandra was 12 and her sister Gabriella was 9, they were sleeping one summer night when Alessandra was awoken to the sound of her sister's muffled scream (they shared a bedroom). She sat up just in time to see her being dragged out of the window, the last thing she saw was her wide terrified eyes. Paralyzed with fear, Alessandra sat there for half a minute before she was able to stand up and run to the window to peer outside. When she saw no sign of her sister or the thing that had taken her, she ran to her parents room and woke them up, rapidly trying to explain what had happened while literally pushing them to her bedroom. She was shocked at what she saw upon returning to her bedroom: Gabriella was curled up in her bed, and appeared to be sound asleep. While her parents tried to reassure her and tell her it was just a nightmare, Alessandra couldn't believe it. It had been too vivid, too real.
After that night, Gabriella wasn't the same. She was cold, unusually clingy to their mother, and just seemed 'off'. She never wanted to play, she just wanted to be next to their mother at ALL times. Her father was so busy at the bakery that he didn't seem to notice anything different, and whenever Alessandra tried to talk to her mother about it the very few times she was alone, she brushed her off and claimed that it was just a phase. Then Alessandra started to notice other younger children in the neighborhood acting the same as her sister. Something was happening to the children in her neighborhood, and she had to try and figure out what it was. At this point, it had been like this for almost a month, and Alessandra felt in her heart that something was seriously wrong. She lied to her mother about doing a summer report and went to the library almost every day, typing in key words and reading about things she could never have imagined. Of course, she didn't believe most of it. However, one thing she found seemed to fit: something called a 'changeling'. After a week straight of researching, Alessandra was reading the site about changelings when she noticed a man in his late twenties standing behind her, watching her and the website she was on intently. The man introduced himself as an FBI Agent, even showing her a badge. It looked real, and he was dressed in a suit, so she didn't think twice about talking with this man. He asked her why she was researching such things, and since she had no one else who had been willing to listen, it all came out in an emotional flood of words. As strong as she had tried to be in those 5 weeks, she was a frightened 12 year old girl, alone in what she believed and who desperately wanted to help her sister. She told this man everything that had happened, everything she had researched, and he listened to her, surprised by the courage and intuition of this child. When Alessandra had finished, the man (who's name was Zach) put a hand on her shoulder and tried to reassure her. With a saddened heart, he divulged to her who he really was: a hunter of the supernatural, of things like what she was researching. He swore that he would do everything in his power to save her sister and the other children. Alessandra could hardly believe what he was saying at first…but if this man could help her save her sister, and the other kids in the neighborhood, she had to trust him.
Under his orders, she told her mom that she wanted to stay the night at a friend's house for a few days before summer was over, and her mother let her. Alessandra was growing increasingly worried about the situation…her mother appeared to be getting weaker by the day, and after her research she knew why. The changeling was feeding off of her mother's synovial fluid. If the changeling perceived Alessandra as a threat to its 'food supply', it would kill her. She kept in contact with Zach by a cheap prepaid phone he had given her, and that first night he called her. He revealed that he had found the place where the real children were being kept, and he was going after the 'mother' changeling, since killing her would kill the other changelings. He told her to sit tight, but she couldn't…she knew that the 'children' had to sense what was going on. Alessandra was scared so deep into her soul, but she had to move forward. Armed with a long stick lighter and an aerosol can she had packed, she ran out of her friend's house toward her own house to make sure her mother was going to be okay. Some of the changelings began to chase her down the street and she managed to keep them at bay with fire. Running into her house, she bolted the door behind her and witnessed her changeling 'sister' attacking their mother. Alessandra ran forward to get its attention, and the changeling charged for her. Seeing her 'sister' charge for her with such an evil look on her face made her hesitate. The monster hit her across the room, throwing her into a lamp and shattering it, leaving a jagged cut by her collar bone. As the monster closed in for the kill, it suddenly let out a scream and evaporated in a large puff of smoke. Alessandra could hear similar screams throughout the neighborhood, and she knew that Zach must have killed the 'mother' changeling.
Lillian was absolutely traumatized, and Alessandra could see that she was hurt but it was nothing serious…the physical injuries were minor compared to her mental suffering. While she held a damp washcloth to a gash on her mother's forehead, Zach called the cell phone in Alessandra's pocket. He informed her of good news and bad news: the good news was that he had indeed killed the mother changeling and found the real children…the bad news was that not all of the children had survived. Alessandra feared the worst, because she was pretty sure that Gabriella was one of the first children abducted, meaning she was being fed off of the longest. She could hear him question the children over the phone, and her worst fear was realized…Gabriella didn't make it.
Alessandra was devastated and blamed herself for the longest time after Gabriella's death. Lillian never fully recovered after the incident, suffering a serious mental breakdown and being forever changed. She refused to believe what had really happened, and created her own little world inside her head and she was never the same. She spent much time in a mental hospital before being sent home into the care of her husband. Marcello and Alessandra, still grieving and dealing with the loss of their beloved Gabby, had also received a crash course in the world of the supernatural. In the years that followed, Alessandra kept up the karate and swordplay lessons from her father along with her other extracurricular activities, while Zach taught her how to shoot a handgun. She studied everything she could when it came to hunting; even Zach came around often to help her and Marcello out. Alessandra and her father started hunting together when she was 17. They went on a few hunts together, but after a while it was just her or she would team up with Zach. Marcello stayed behind to care for Lillian when she was released from the mental hospital, but he worked the phones and helped Alessandra with research when she needed it. Alessandra struggled in school, but managed to graduate high school with a 3.2 GPA. That was fine with her, because the moment she realized that her sister had died, she knew there was only one path for her to follow…and that was the path of a hunter, saving as many people as she could. She's been all over the U.S., and even spent a few years in Japan dealing with a bad Okami situation and a Shojo case (which is how she acquired the katana she now wields).

Alias:
Lola
How did you find us?:
Old Board
Experience:
About 6 years
Other Characters:
Coming soon!
RP Sample:
Darius was perfectly content with his job, most of the time. Making deals was something he had always been good at. Even in his miserable human life it had been his career of choice. Of course now he dealt with human souls instead of trinkets and bobbles. The other thing that transferred over to his demon life was an insatiable greed. Even though the Crossroad demon wasn't doing too badly considering what was going on with the angels, it was never enough. He wanted more…Darius wouldn't be content until he was number one in his business. There wasn't really anyone above him now, except Crowley. A sneer formed on his young looking face as he thought about it, drumming his fingers on top of the mahogany desk he was currently sitting behind. As much as he hated to admit it, Darius didn't see himself taking Crowley's place anytime soon. The bastard had been handpicked by Lilith after all, and was stronger than Darius even though he was younger. A few moments passed, when suddenly the demon was pulled from his thoughts by a familiar sensation. It seemed someone was trying to summon a Crossroad demon to make a deal. However Darius couldn't help but feel annoyed when he realized where the summons was coming from. It was dangerously close to angel ground zero, his least favorite place these days. He would answer the call…but he would take along some backup just in case. Darius couldn't resist the prospect of gaining another human soul as everyone helped in his quest for power.
As he appeared near the buried box and looked around, the demon was quickly reminded of why he wasn't always content with his line of work. The risks could be stacked pretty high against him, especially when a hunter would get the bright idea of trying to trap him. Darius honestly couldn't recall how many times it had happened over the centuries, and since he was still around one can guess how well it ended for those hunters. That's why the hell spawn appeared to be just slightly annoyed as he looked around at the devil's trap he found himself in. Of course he hated the feeling of not having his powers at his disposal, but in his mind he still held all the cards in this situation. Shaking his head, he made a disapproving noise as his blue eyed gaze finally fell onto the woman before him.
"You know, we always get a bad rap for being deceptive and sneaky. Honestly, you hunters can be just as wicked."
A small smirk formed on his features as he looked the female hunter up and down. There was something…strange about her. It was like he was looking at an angel, but something was missing. The smirk quickly faded into a look of curiosity as he tilted his head to the side, not moving his eyes away from her. Did she even know what she was?
"Well, at least you're more pleasant to look at then some burly middle aged man covered in hair and wrapped in flannel."
Darius continued on in the light British accent he liked to use while slowly clasping his hands in front of him. While he was confident that he would get out of this situation unscathed, he still had to be careful until he could get free of the devil's trap.
"So, what can I do for you, my dear?"
I (Alessandra De Luca) have read the site rules and understand them. The code word for the rules is: (Batman)
[/div][/div]
Application Created By Hell Hound
[/div]