Post by Erika West on Apr 27, 2015 17:11:09 GMT -5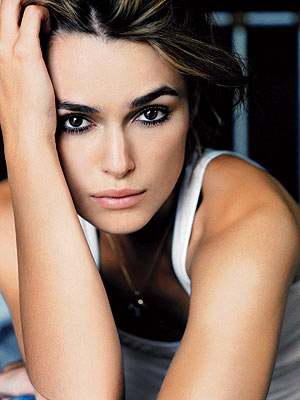 Full Name:
Erika Jean West
Nickname/Alias:
Snow when in dog form
Age/Date Of Birth:
26; July 22nd, 1989
Race:
Creature
Occupation:
Nurse
Species Group:
Skinwalker
Play-By:
Keira Knightley
Abilities
Shape-shifting
- Like Werewolves, Skinwalkers possess the ability to transform into canines. Unlike werewolves, however, skinwalkers transform completely into an animal rather than a hybrid man/wolf creature. Skinwalkers can change from their human to animal forms anytime without a full moon.
Infectious bite
- Like Werewolves, Skinwalkers possess a poisonous bite; if someone is bitten by a Skinwalker, he or she will also become a Skinwalker.
Enhanced Sense of Smell
- They can smell far better than humans, in either form. Using this ability, they can tell if they are being followed or if someone is in the vicinity, within an approximate range of 100 yards or more. They possess this ability even in the human form.
Super-hearing
- A skinwalker's hearing is better then humans, like a dog's.
Accelerated Healing
- They appear to be able to heal themselves much faster than humans.
Enhanced Strength
- Their strength seems to be greater than the average human's, as in its dog form it was able to kill humans. Their strength appears to increase with rank (much like vampires), as the Pack Leader is able to beat lower ranks around with no difficulties. It seems that it's only in their canine form that they possess their strength.
Super Speed
- Skinwalkers, in their animal form, can run and move faster than humans.
Invulnerability
- Like many other shapeshifters, Skinwalkers can only be killed by silver bullets to the heart or head. They can, however, be injured.
Special Inventory
Special items that are bought from the store will go here.
Likes (At Least 3):
❤
Southern cooking
- It's kinda what she grew up on
❤
Helping people
- Her job is helping others and she loves it
❤
Music
- It helps her forget her worries and stress.
❤
Sewing
- She's used to having to fix things when hunting and loves the therapy behind it
Dislikes (At Least 3):
✗
Rude people
- Manners are everything
✗
Fast food
- It's just not as good as home-cooking!
✗
Silence
- It puts her on edge
✗
Maris getting hurt
- It bothers her terribly
Fears (At Least 2):
☬
Losing Maris
☬
Not being able to help people who need it
☬
Unknown hunters cornering her and killing herGoals (At Least 1):
★
Keep Maris alive for as long as possible
★
Become a doctor somedayPersonality:
A down-home country girl, Erika grew up with the urge to help people and give unto others. She's a warm, friendly, golden-hearted girl who never seems to stop smiling. She likes to help those who need it and loves to see the smile she gets after. She avidly believes in being nice to others and karma will be nice to you, even if she's been on the bad end of karma. Still, she never lets it stop her from trying to help everyone.
Traits
[/b][/font]
✧Flirty
✧Kind
✧Friendly
✧Intelligent
✧Good sense of humor
Negatives (At Least 3):
✦Stubborn
✦Over-friendly
✦Nagging to a point
✦Blurts out her feelings
[/ul]
Parents:
Jessica Lynn (Arnold) West, mother - Alive; Alexander John West, father - Alive
Siblings:
N/A
Other Family:
Numerous aunts and uncles and cousins, all of whom think she disappeared.
Important Others:
Maris Splinter - Best friend/crush; Sean Harrison - Mentor/friend
History:
Erika was born to Jessica Lynn Arnold and Alexander John West when her parents were seniors in high school. The ultimate love story, her parents remained together and married after graduation, her mother's bouquet their newborn daughter. Erika was raised with love and kindness, growing up in San Antonio, Texas. For the most part, her life was very uneventful. Nothing happened for a while until she turned sixteen.


Her mother found a dog on the side of the road. Injured, they brought the animal home and opted to send it to the vet in the morning. Erika, ever the curious one, made her way in the middle of the night down to where the dog slept. It eyed her warily for a long moment and when Erika reached out to pet it, the dog growled and bit her. Pain she never knew before seared through her hand and she screamed out. The dog scrambled and bolted through a window just as her father came down, gun in hand. They rushed to the hospital that night.
Unfortunately for Erika, the dog was actually a skinwalker. The bite infected her immediately and her life never was the same. She doesn't recall many details about the night she first turned into a husky, but she did recall being chased through the hospital while she was trying to grasp on everything. She disappeared into the night, afraid to return to her parents and possibly do the same thing to them.
As she traveled, she met other skinwalkers who taught her everything she needed to know. She was thankful for them, but she couldn't hide the pain of losing her parents and old life. She went under an alias for a while as she went though college, getting a degree in nursing. The alias, of course, was simply a precaution. She was certain by this time her parents thought her dead. So she began to live her life as normal as possible. For a few years, this worked. Until fate dealt her a special hand.
One night, she stumbled upon a hunter who appeared to be hunting a skinwalker. She was mistaken for the target and fought hard to survive this encounter. Just when she was cornered and lost hope, Maris appeared like a guardian angel. Although Erika was wounded, once Maris saved her and got them to safety, she returned the favor. This became an on-going thing and the two women soon became best friends. Polar opposites, Erika found comfort in Maris' quiet, somewhat serious nature. They seemed to work well together.
During this friendship, she met Sean, Maris' mentor and friend. He taught her how to be a hunter as well to better protect Maris. She was taught how to fight, both in human and canine form. And she was able to share her knowledge of medical scenarios with both of them. Soon, Sean became a father-figure to her, a stand-in for her father that she mourned for.
Erika found a strange comfort in this new life. Although she certainly missed her normal life, she was happy with Maris and Sean and couldn't really find way to complain about this life.
Alias:
Just call me Angie
How did you find us?:
Revan <3
Experience:
10-ish years.
Other Characters:
Angie Johnson, Jackson Johnson
RP Sample:

The Beginning...

Angie swept back her hair from her eyes, putting a strand behind her ear as she glanced at the map she held on the steering wheel. From her research- and digging through her grandfather's things most of the summer- she was close. The witch she was after was only a few miles away at this point. Apparently she opted to live on a farm house, away from any unsuspecting humans who would stumble over her. And anyone who was stupid enough would never be found again. After all, a thousand things could happen out in the middle of nowhere. A frown creased her lips at that. Everything was just too perfectly set up. She wouldn't be surprised if the witch answered looking like an old woman. It would be a sick sense of irony that made her stomach flip. Humor in the moment was lost to her.

Turning the black truck down the gravel road towards a distant farmhouse, Angie quickly put the map on the passenger seat. It was only a mile away, but it felt like a lifetime. With her pistol hidden inside of the jacket she wore, she quickly adjusted her hair and her appearance to look like that of a ditzy college student who had lost their way. It was the only way she'd be able to get through the door. Inhaling for a moment, she reached in her pocket and pulled out a stick of gum to chew on, snapping and popping it to get in the feel of it.

Moments later, she parked her truck beside an older car in the driveway. Apparently brooms are out of style still. she thought sourly. The farmhouse was brightly colored with a wraparound porch. It looked like a grandmother's house with the lawn ornaments and everything. Tricky witch. She moved out of the truck and walked up to the door, ringing the doorbell before looking around, feigning interest. In all reality, she was looking for any exterior telltale signs of witchcraft. Nothing looked out of the ordinary. But inside would tell her different. A moment later, an older woman answered the door curiously, smiling a bit, clearly surprised. "Hi. Sorry to be a bother, but my truck is completely out of gas and my cell is out of service. Can I borrow your phone to call a tow truck?" The older woman nodded and allowed her in. The gun in her pocket felt heavy. At least with it being a farm house, no one would know what happened. Taking her first step into the house, Angie knew that there was no more going back after this. It was just the beginning.
I Erika West have read the site rules and understand them. The code word for the rules is: BATMAN
[/div][/div]
Application Created By Hell Hound
[/div]